"No one told me that grief felt so like fear." C. S. Lewis
I am reminded again of the similarity myself.  And it has me thinking about how that roller coaster of emotions effects relationships.
Even in regular, ordinary days, not times of intense grief, like at the death of a loved one, it seems that fear or illness or even lengthy retrospection can make us appear to each other as withdrawn or angry.  And sometimes we get confused when our family members start to distance themselves from us when they get signals that we are disinterested in them or that we are angry or upset at them.
Can you relate?  Ever had morning sickness and have to explain that you aren't upset at anyone, just concentrating on not losing your breakfast?
Or has your spouse ever had a lengthy recuperation from an injury and you had to remind yourself that it isn't you, he's just tired and struggling to regain his balance?
There are so many ways and times that family members can practice empathy and long-suffering.  In fact, in order to stay intact, these gifts need to be given and received, over and over.
And often, the process begins with those quiet moments in prayer, when your heart is open and stretched out to God, and you realize how in need of His comfort you are!  And with that recognition comes the understanding that you need to make sure that your family knows that you are striving to be comforted and soft-hearted, and that though you may be tender now, you trust that God is working all things for your good and theirs. Often just showing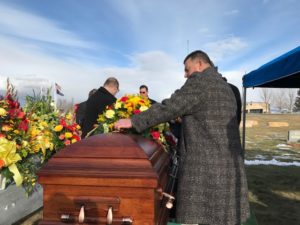 our pain and our hope to each other will alleviate the possible confusion of mistaking grief and fear for anger or blame.
It can be tough.  It can be a long process.  But this is exactly what families are designed to do.  To bounce experiences off of each other, to reflect back each other's uniqueness and goodness.  To encourage and protect each other.  To endure and try again and again and again to communicate and to share our perspective.
I guess that "blessed are they that mourn" may in part mean, blessed are they who share their feelings with others, who let their grief out, who enlist love and support from others, who don't climb into a hole of denial and blame and thereby ostracize themselves….for they shall accept comfort and get through the process eventually.  I would guess that it also means that feeling the pain leads to the healing.
I pray that wherever you are today in your journey, through the highs and lows of your life, that you will pour out your heart to God and allow Him to comfort you.  I am doing the same.
I love you.
Jacque
"I will turn their mourning into joy." Jeremiah 31:13
P.S. Thank you Melissa for the foot rub and honey lavender tea! How wonderful to have dear friends.