---
Coleslaw:
Coleslaw: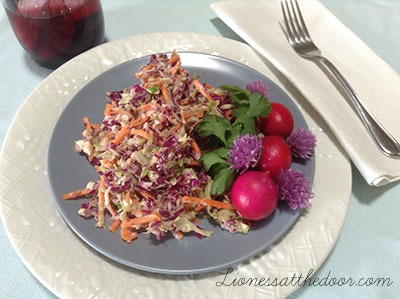 1/2 head sliced purple cabbage
1/2 head sliced green cabbage
2-3 peeled, grated carrots
2 diced green onions
Dressing:
1/3 cup olive oil
1/3 cup honey
1/4 cup Bragg's apple cider vinegar
1/2 tsp. Real salt
1/2 tsp. pepper
Combine vegetables in a large bowl. In a separate dish, combine all dressing ingredients. Pour the dressing on salad and toss to combine well.
---
Smokey Spinach-Kale Salad with Vinaigrette: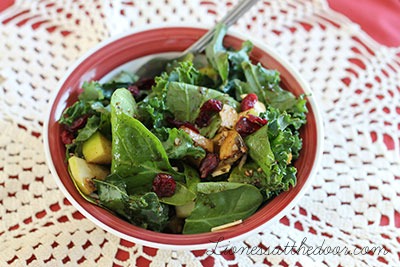 Salad:
3 C. spinach
3 C. kale, cut or torn into bite-sized pieces
1 granny smith apple, diced
1/3 C. smoked Gouda, cubed
1/4 C. Craisins or pomegranate seeds
Vinaigrette:
1/2 C. olive oil
1/4 C. Balsamic vinegar
3/4 tsp. Italian seasoning
1/2 tsp. onion powder
1/2 tsp. Real salt
1/4 tsp. pepper
1 Tbs. agave
6 pecans, chopped
1 garlic clove, minced
Combine all dressing ingredients and set aside. In a large bowl, combine all salad ingredients. Serve salad and dressing separately.
---
Kale Apple Salad
2 bunches of kale, washed, dried and stemmed
2 apples, cored and diced
1 medium red onion, very thinly sliced
Vinaigrette
1/2 cup lemon juice
1 tablespoon coarse-grain Dijon mustard
1/4 cup cider vinegar
3 tablespoons honey
1/2 teaspoon salt
1/4 teaspoon black pepper
1 cup grapeseed oil (or olive oil)
To prepare vinaigrette, combine lemon juice, vinegar, mustard, honey, salt and black pepper in a bowl, then add oil, pouring in a slow stream while whisking.
To prepare salad, tear kale into 1-2 inch pieces. Place kale, onions and apples in large bowl.
Pour in about half the dressing and toss, then add the remaining dressing. I have found that this salad is at it's prime after it has been "dressed" and refrigerated over night.  The kale looks glossed and beautiful and it is a little softened but not wilted.  Hope you enjoy this as much as we have! Be creative and add new things such as avocado, sunflower seeds, pumpkin seeds, craisins or whatever you think would be tasty.

---
Ready for a new salad idea that will wake up your mouth!!?  I made this Thai salad for my mom and my daughter last week and they loved it…
Dressing:
Thai Peanut-Sesame Vinaigrette
1/4 cup rice vinegar
1/4 cup sesame oil
3 Tbsp chunky peanut butter (Adam's-the trick is to stir it well once then refrigerate!)
2 Tbsp lime juice
1 1/2 Tbs honey
1 1/2 tsp grated fresh ginger
1 1/2 tsp Bragg's aminos
1/8 tsp dried crushed red pepper
Whisk or blend until smooth.
For salad:
fresh spinach
romaine lettuce
fresh chopped cilantro (a lot!)
chopped tomatoes
grated carrots
bean sprouts
toasted sesame seeds

---