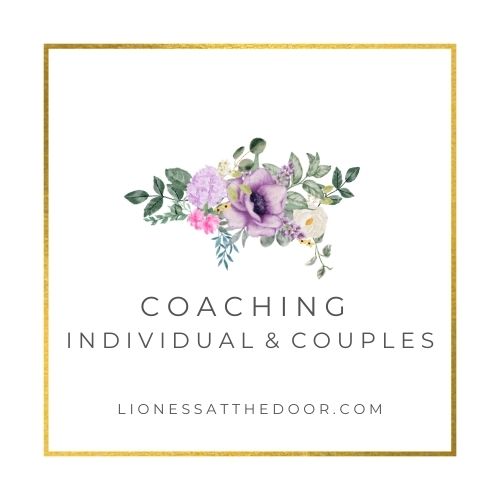 Hello, and thank you for your interest in Lioness 1:1 mentoring and coaching!
Working with you one on one is obviously the most personal and tailor made Lioness program, but it is also the most rewarding and joyful experience for me as a coach to come to know, respect, support, love and encourage you in your personal challenges and growth.
An Overview:
In the first week, we will discuss your desires and goals and set a course for the learning, study, practicing and working you will need to do, and when. I will recommend principles and paradigms that will guide our discussions and broaden and deepen your perspective on what you can do as a wife and mother to change the emotional, physical and spiritual climate of your health and your family life.
Then, in the following sessions, we will meet to report on your assignments, discuss what you are learning and observing about yourself, and what you will work on next.
Through the course of your program, you will be assigned to read several books, (which you will need to purchase at the beginning), at times submit pictures of a project, and keep a written log of your learning experience.
The Logistics:
This six-month program is made up 4 weekly, 50 minute sessions each month. These sessions can be held in person in my home office, or on zoom, or a combination of each. (2020 taught me that using video conferencing for coaching sessions is very effective and in many cases more convenient than meeting in person when babysitters are needed or driving great distances is concerned!)
A note on babysitters: our coaching sessions will be intense and cover a lot of ground when we can both be focused and tuned-in! So, even if we don't meet in person, and you have small children, you will still need to have a plan for them to be cared for, safe and happily occupied while we visit!
Your Decision:
Because a half year of coaching is a big commitment, there are a few things I'd ask you to consider as part of your decision-making process:
Are you in a relatively stable place in your life emotionally? (I am not a therapist but rather a transformative coach. If you have significant painful, emotional issues such as suicide ideation or intense trauma, I recommend that you find a qualified psychiatrist or family therapist for the specific support that will help you now.)
If you have small children, do you have some measure of support from your spouse or extended family to free you up to work on assignments and be present in coaching sessions?
Are you willing to accept the challenge of doing assignments, exerting your faith, learning new ways of thinking and behaving, honestly facing yourself and progressing to a new level of responsibility and adulthood?
Are you motivated to do what it takes to become the most loving woman, wife, and mother you can be?
If so, then you are in the right place!
I would love to visit with you in that complimentary 30 minute consultation. Please hit the button below and sign-up for a time to talk.
These coaching spots are limited, so even if you're not sure whether the time is right or not, please sign-up for the consultation appointment, and we'll figure out what might be best for you and coaching, either now or after a time on our waiting list.
I wish you every good thing in life, and pray for your family's success!
God bless!