Three years ago, I posted this recipe for black bean brownies.  I re-post it today with a new topping idea in time for Valentine's Day!  I took these (the strawberry version) to a luncheon today, and was reminded how nice it is to have a delicious treat, with no headache afterward.  These are a little pudding-ish in the texture, not too rich, and pretty mellow with the deep chocolate flavor and the lightly sweet, whipped cream cheese on top.  Use a little milk (any kind) to thin the frosting enough so that it will flow out of the bag easily.  I left mine a little too thick today, so it wasn't as controllable.  Using the berries for color adds to the "realness" of this whole-food dessert.
I've been on a mental rant today, I'll fill you in on the whole conversation soon.  Just suffice it to say that, as a rule, I encourage clients to focus on adding good things to their diet instead of focusing on removing things, and over time they find that the less desirable foods will fall away.  That said, at some point you need to give your taste buds a chance to re-acclimate to real.  If you haven't already experienced it, you'll be amazed at how much your taste buds will "normal out" when you stop eating junk food.  But in order to do that, you have to add in the good yes, but also make a commitment at some point to leave the empty calorie, refined, artificial color and flavor, food science mish-mash alone. (Can you hear the rant coming on?)  I decided that just before Valentine's Day wouldn't be a fair moment to give you the whole thing!  But it's coming!
Today, I'll just say that I hope you'll have a great day tomorrow treating yourself to a real food dessert…with no ornery, sugar fatigue later!
Black Bean Brownies
3 1/4 cups black beans, soaked overnight and cooked*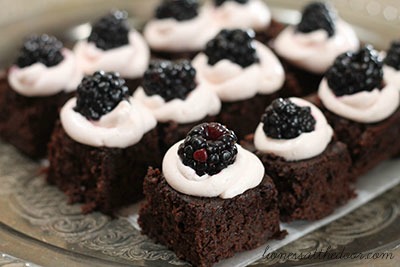 6 fresh, free-range eggs
2/3 cups cocoa
2 tsp. vanilla
2/3 cup melted butter
1 tsp baking soda
1 tsp Real salt
3/4 cup raw honey
1/4 cup Sucanat (dehydrated cane juice)
Super easy to put together; just cream the beans and eggs together in your favorite blender/food processor.  Melt butter on low heat in a small saucepan while adding the rest of the ingredients to the bean/egg mixture.  When butter is melted, add it to the batter slowly while mixing.  Pour brownie batter into a butter 9 x 13 baking dish and bake for 35-40 minutes @ 350°.
*To prepare beans, follow instructions on package for soaking and cooking beans.  (You will cover beans in water and let sit overnight, then cook on low heat for a few hours until they are soft.) This helps you avoid chemicals in canned beans and is very cost effective.  But, if canned beans are your only option, they will work as well.
Cream Cheese Frosting
1 8 oz. package cream cheese
3 Tbs. raw honey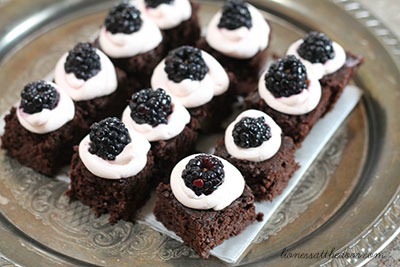 1 tsp. vanilla
dash of salt
1 tsp. beet juice (for mauve color, optional)
Beat all ingredients together with a hand mixer until smooth.  Spoon into a zip lock bag or a frosting bag.  Chill in the refrigerator for an hour, to allow it to set. Then cut a small hole in one corner of the bottom of the plastic bag (or use frosting bag with decorator's tip) and squeeze in swirls on top of small squares of brownies once the brownies are cooled.  We used black berries (cut in half length-wise) for garnish, but raspberries, blueberries, strawberries or shaved chocolate would be lovely too!
*Remember, sweet treats, even those made with real food ingredients, should be reserved for special occasions and served in small portions.  Think of it as training your taste buds to prefer foods that are less sweet, less processed and eaten after nutritious meals, and not used as snacks.  You and your family will be better off in the long run employing this healthy habit!