Isn't it amazing how easy it is to get into a scuffle with a family member in all the hustle and bustle of life?  And, as the parent, isn't it amazing how easy it is to start a conversation with "You…!"  As in, "You are a …..," or "It's your fault…," or " If you would just…."
When we can hear those words coming from our mouths, we just know that this "conversation" is actually a criticism of someone, and most likely will not have the positive, productive outcome we desired!
But how to change it!?
Wouldn't life be better if that person was just told what a pain they are being and that they need to shape up or else?
"You" messages are poi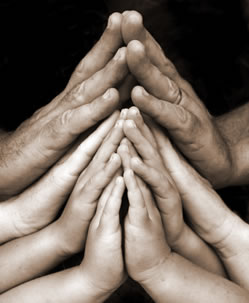 nted, critical, feel like an attack and bring forth anger, defensiveness and hurt!  So,the chances of inspiring change or contrition or anything positive aren't very good when an interaction begins with the pointing finger of "YOU always…!"
A saving grace that I learned in college (oh, that I could have employed it far more in my parenting!!!) is simple formula of, "I….feel about….because…."  You fill in the blanks. When I learned about this special secret, we were given the assignment to use it!  I didn't know if I'd have any opportunity.  But, almost immediately, I was in a delicate situation with a roommate (aren't most situations with women, delicate-not because we're delicate, but because we can be, you know, moody, tearful, offended. Ha! Wish it weren't true!)
I finally figured out a way to fill in the blanks of the secret formula with how I felt and why and mustered up my courage to have a direct, but non-threatening conversation, and what do you know?  It worked!!!  It is far easier for me to want to shy away from confronting someone, but using this technique takes the teeth out of it so that it doesn't become a "confrontation."
"I feel frustrated about the dishes not getting done because we have agreed that they would be done while I worked on your prom dress."
"I feel embarrassed about the laundry on the couch because our friends will be here in a few minutes and they'll probably wonder what kind of homemaker I am."
"I feel sad about our practice time because I hoped to get through a section."
I tell you, even with practice, I still have to really think about how to phrase this. It takes work.  But it is truly worth the effort.
The dilemma I had with that roommate was solved in about 10 seconds because, as it turns out, she had no idea that her behavior was causing me any grief.  And when she saw that she wasn't being attacked, and that she didn't have to defend herself, she quickly apologized and we made a new plan about how to have differing schedules and share a room.  (Of course, it also says a lot about the caliber of person she is!)
But who doesn't detest that feeling of being possibly misunderstood, judged and convicted all without having an opportunity to give their perspective or even to say we're sorry, we didn't know our behavior was a problem?
We know that arguing is a black hole.  (The problem doesn't get solved because we're too concerned with who is right!) We know that criticism is counter productive, (not to mention self-righteous and smug!)  But often we just don't know what to do to right a difficult situation.
So I offer this little recipe.  And I challenge you to use it in the coming week and share your experience if you feel it would be inspiring to someone else!
"I feel happy about my work because I get to associate with amazing women who are dedicated to being the best they can be!"
Love to you!
Jacque