Learning to know where we end and where our children begin is of utmost importance.
What problems/challenges/desires/opportunities belong to us?
Which problems/challenges/desires/opportunities belong to them?
Our children need us to get this right. They need to learn to solve problems, speak up, make decisions and gain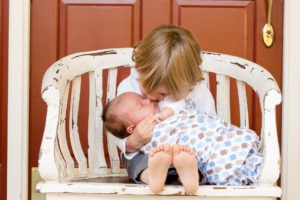 their independence one small step at a time.
If we jump in to solve every problem, to speak for them when they can speak for themselves or override their opportunities without considering their desires, we may be overstepping our boundaries.
Remember, as we learn from the Lundberg's book, I Don't Have To Make Everything All Better, we can walk beside those we love and offer a validating, listening ear, but we most often need to let the problem stay with it's owner.
We can ask ourselves, "whose problem is this?" and "how can I let my child know I'm here to offer support without taking over?"
We can also practice listening, giving our full attention and memorize the validating questions and phrases to help us engage in our listening to the point that our child can feel our love. They will also feel our confidence when we keep out of trying to solve the problems that are the perfect growing opportunity for them.
Practice. Practice. Baby step. Baby step. That's how we are growing.
We can give our children the same opportunity.
Much love to you today,
Jacque