A friend shared this recipe with me a while ago and I just got around to trying it! And of course I tweaked it. The flavor is amazing! I hope you love the fresh lime and cilantro!
For the slaw: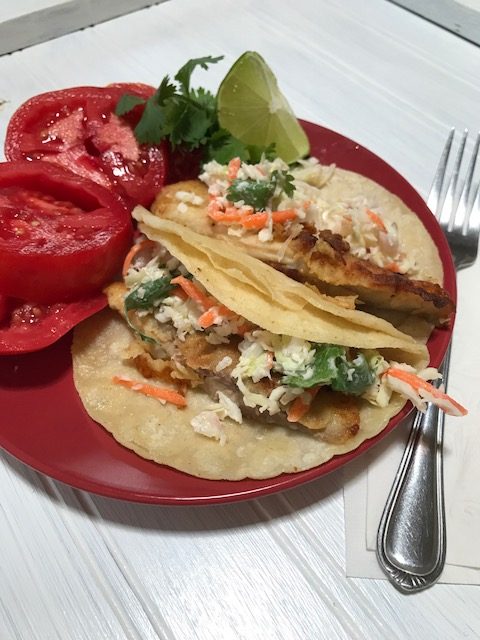 3 cups shredded green cabbage
1/2 cup diced red onion
1 cup sour cream
1 lime juiced
1/4 teaspoon salt
For the taco:
4 tilapia filets
1/4 teaspoon cayenne
1/2 teaspoon garlic powder
1/2 teaspoon cumin
1/2 teaspoon salt
1/2 teaspoon pepper
Corn tortillas; cilantro and lime
Make slaw by mixing veggies and spices and put in refrigerator to chill. (I also added grated carrot and cilantro for color and extra nutrition.)
Mix together seasonings and season tilapia filets on both sides.
Cook the fish over medium heat for about 5 minutes, turn and cook another 4- minutes.
You can break the filets into pieces or just slice them down the middle, so one half fits down the center of the tortilla.
Heat tortillas in a small amount of olive oil and assemble with fish and slaw.
Squeeze lime juice on top and garnish with cilantro.
If you haven't ever tried fish tacos, I highly recommend at least a taste. Sure makes for an easy and delicious meal.
Enjoy!
Love,
Jacque