---
When considering what to make for dinner (or better yet, what to put on your weekly plan for dinners) think of what items you might have growing in your garden, what is on sale at the farmer's market, what you will be getting in Bountiful Baskets, the grocery store flier, etc.  It will cost far less in the long run to cook from scratch than to buy pre-prepared cardboard-type meals.
Nutrient dense, healthy fats, fresh as possible, many bright colors, and the highest quality meats and dairy you can afford~ this kind of eating will bless your family for years of vibrant health.
If you are in a crunch and you need to pull something out of the freezer in a hurry, remember, make it as nice as you can, and serve it with love!  Vitamin L goes a long way!
Hopefully, with plans in place, you will have something homemade in the freezer to pull out on crazy days!
Your efforts to study, plan and work to provide delicious food for your family will be magnified as you accept the responsibility and move forward with faith in God to help you~ and faith in your ability to learn and grow….you are the Lioness at the Door!

---
Beans Cooking Class Notes!
*See Recipes for White Bean & Ham Soup and Thai Chili recipes as demonstrated in class*
Quick Soak: Boil the beans in water for 5 minutes, remove from heat, cover and allow them to soak for 2 to 4 hours (soaking longer does not damage). Drain, rinse, add to fresh water and proceed with cooking.
Overnight Soak: Soak beans 8 to 12 hours, drain, rinse, add to fresh water and proceed with cooking.
A simple way to tell if you have soaked your beans enough is to slice a bean in half; if the center is still opaque, soak more.

---
Basic Bean Cooking Guide
Wash and clean beans.
Soak beans using either of the two methods.
Do not cook beans in water they were soaked in.
Place beans in heavy pot with suggested amount of water.
Bring to boil.
Skim off the foam.
Spices that aid digestion and add flavor and minerals are bay leaf, cumin, anise, fennel, garlic and kombu. These can be added to the water while cooking.
Cover, reduce heat and simmer for the suggested time.
Only add salt at the end of cooking, about 10 minutes before beans are done.
Otherwise it will interfere with thorough cooking.
Joshua Rosenthal, Institute for Integrative Nutrition, Integrative Nutrition: Feed Your Hunger for Health & Happiness
Posted on January 11, 2012
| Grain (1 Cup) | Water | Cooking Time | Contains Gluten? |
| --- | --- | --- | --- |
| Brown Rice | 2 cups | 45-60 minutes | no |
| Buckwheat(Kasha) | 2 cups | 20-30 minutes | no |
| Oats(whole groats) | 3 cups | 75-90 minutes | no * |
| Oatmeal | 2 cups | 20-30 minutes | no * |
| Amaranth | 3 cups | 30 minutes | no |
| Barley(pearled) | 2-3 cups | 60 minutes | yes |
| Bulgur(cracked wheat) | 2 cups | 20 minutes | yes |
| Kamut | 3 cups | 90 minutes | yes |
| Millet | 2 cups | 30 minutes | no |
| Quinoa | 2 cups | 15-20 minutes | no |
| Spelt | 3 cups | 2 hours | yes |
* may be contaminated

---
Coconut Curry Acorn Squash
2 acorn squash
2 heaping Tbs. coconut oil
1 small onion, chopped
2 cloves garlic, minced
1 tsp. curry powder
1/2 tsp. cinnamon
1/2 tsp. salt
2 Tbs. agave
1/4 C. almond milk
Cut squash into 6 wedges each and remove seeds. Place wedges in skillet and cover bottom with 1/2 an inch of water. Sprinkle with Real salt and a little sucanat (optional). Cover and cook on medium heat until squash is tender. While squash is cooking melt coconut oil in a separate skillet and saute onion and garlic until onion is translucent. Stir in milk, agave and spices. Cover and remove from heat. When squash is tender, remove outer skin and drain water from pan. Replace wedges in skillet and spread the curry sauce on each wedge. Cover and warm for 15 minutes. Serve.  I hope you love this flavor as much as I do!  It would be delicious with a few hot chili flakes cooked in the sauce, if you're cooking for folks who like a little spice, but wouldn't recommend it for the little people. ; )  I created this to take to a luncheon with a group of ladies who are fantastic cooks…glad it turned out!

---
Egg Fu Yung
2 Tbs. sesame oil
10 eggs
3 large garlic cloves
2 carrots, grated
1/2 red onion, diced
2 kale leaves, cut or torn into 1 inch pieces
2 C. bean sprouts
2 Tbs. Bragg's Amino's (soy sauce)
2 Tbs. cornstarch
salt to taste
pepper to taste
Sauce:
1 C water
1 tsp. Real Salt
2 tsp. cornstarch
2 Tbs. Bragg's aminos
2 tsp. sesame oil
In sesame oil, saute carrots, garlic, onion and kale until tender. Add bean sprouts and cook for 2-3 minutes. In separate bowl, whisk eggs with cornstarch and aminos. Slowly pour eggs into vegetable mixture. Stir until egg is cooked.
Combine ingredients for the sauce in a pan. Heat until thickened. Serve over egg mixture.
*I encourage you to be creative with this recipe. Try different greens! Add broccoli, cauliflower, thinly sliced Brussel sprouts or shredded cabbage.

---
Pad Thai
1/2 C. peanut butter
1/4 C. rice vinegar
1/4 C. oil
1 tsp. paprika
2 tsp. garlic minced
1 Tbs. honey or agave
1 pkg. rice noodles
1 C. meat (chicken, shrimp)
Handful of vegetables you like (shredded carrots, diced red peppers, bean sprouts, finely chopped broccoli, cauliflower)
Soak rice noodles in hot water for 30 minutes. Stir fry the meat in coconut oil, add the vegetables and cook until tender.
Add the sauce and noodles to stir fry until it is warmed through. Garnish with fresh cilantro, raw peanuts and fresh lime juice.

---
Thai Chili
1 lb. black beans – soak overnight. In the morning pour off water, add new water & cook until tender.
1 Tbs. Chili powder
2 tsp. cumin
2 tsp. salt
1 quart canned or bottled tomatoes (bottled V8 juice works also)
2 C. water
Directions:
In a skillet, sauté 1 onion, 1 yam peeled and diced, 1 red bell pepper & 2 cloves of garlic in 2 Tbs. coconut oil.
Combine black beans, sautéed vegetables, seasonings, tomatoes and water. Cook SLOW & LOW for 1 hour.
Add the juice of 1 lime and fresh cilantro to taste.
Inspired by Mary Conrad

---
Tomato Basil Soup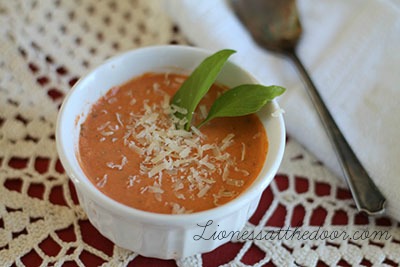 8 cloves garlic, minced
2 onions, chopped
4 Tbs. olive oil
3 lbs. Roma tomatoes, chopped
2 C. chicken stock
1/3 C. fresh basil
2 tsp. dried basil
2 tsp. Italian seasoning
2 Tbs. agave or honey
3 tsp. Real salt
1 tsp. ground peppercorn
2 C. cream
Fresh basil and grated Parmesan for garnish
Saute garlic and onion in oil. Add tomatoes, chicken stock and seasoning. Simmer for 20 minutes. Puree in a blender (using an immersion or standard blender) or food processor. Return to pan and add cream. Allow soup to heat through. Serve with garnish of basil and grated Parmesan. You are going to love it!

---