---
Brown Rice
Remember, in order to have a healthy breakfast and sanity, have brown rice and or apples cooked and in the fridge.  Since brown rice takes 45 min to an hour to cook, it needs to be thought about before the sun rises or chances are it won't happen…
Put apple juice in a sauce pan enough to cover the bottom.  Add brown rice, in the amount you need depending on how many people you are feeding.
Sprinkle with what sounds good….cinnamon, raisins, cooked apples, peaches, raspberries…..cover and put on low heat.  When it is thoroughly warmed, put into bowls and add honey or sucanat or real maple syrup to taste.  Try different milk ideas, coconut, soy or rice for a change.

---
Kitchen Sink Smoothie
1 C. almond milk
1 C. carrot, apple, beet juice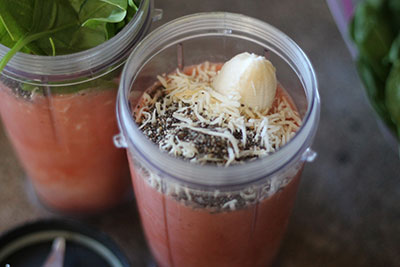 Handful of spinach
4 cubes of fresh, frozen pineapple
1/2 banana
1 Tbs. chia seeds
1 Tbs. shredded, unsweetened coconut
Place all ingredients in a blender and blend until smooth.
This recipe is adjustable! Use what you have and get creative!

---
Maple-Pear Sauce
Heat 1 tbsp. butter in a large skillet over medium-high heat. Add 3 sliced, peeled and cored ripe pears. Sauté until softened and browned, about 4 minutes. Transfer to a bowl. Add ½ c pure maple syrup to skillet and boil until syrup thickens slightly. Stir in pears. Pour into a serving pitcher or bowl.

---
Oatmeal
Give the old standby another chance!  It's easy to soak regular or steel cut oats with a tiny bit of with lemon juice or apple cider vinegar. It's a good idea for digestibility and for quick cooking in the morning when time is limited because it cooks up quickly!  Experiment and see what you like.
When the oatmeal is cooked, try adding new combinations of things like: honey, organic, cold-pressed coconut oil, unsweetened coconut, pecans, walnuts, chia seeds, sunflower seeds, chopped almonds, coconut milk, almond mild, raw dairy, yogurt, a spoonful of high quality peanut butter, real grade B maple syrup, be creative!  Mmmmmm.
1 cup water and 1/2 oatmeal is a good guide for 1 serving.

---
Pumpkin Pancakes
½ c gluten free blend
½ c yellow cornmeal
2 tsp. baking powder
1 tsp. ground cinnamon
¼ tsp. baking soda
¼ tsp. salt
1 c buttermilk
½ c pumpkin
3 tbsp. sucanat
1 large egg
1 tbsp. vegetable oil
In a small bowl, stir flour, cornmeal, baking powder, cinnamon, baking soda and salt and mix well. In a medium bowl, stir buttermilk, pumpkin, succanat, egg and oil with a fork until blended and sucanat dissolves. Add flour mixture and stir just until moistened.
Cook pancakes in a skillet on medium-high heat and reduce heat if necessary. Top with Maple Pear Sauce for an extra delicious breakfast!

---
Quinoa
Have your quinoa pre-cooked too.  It makes a simple and fast and very nutritious meal. Excellent source of protein.
Rewarm with juice or a little pure water….then goof around with toppings: walnuts, apples, blended jar of bottled peaches (drain the syrup), maple syrup, etc.
You can feel very good about the nutrition you and your family will be getting to start off the day.  REMEMBER, BREAKFAST IS THE MOST IMPORTANT MEAL OF THE DAY, so it's worth the planning and effort.
Not only will you feel satisfied, but you won't be lunging for a fast pick-up of refined carbs by mid-morning.  It's going to help your weight maintenance, and your brain, and your blood sugar stability etc. etc. etc.  And if you are cooking for growing children, they need nutrients for brain growth and function!!!!   Breakfast is soooo worth the effort.

---